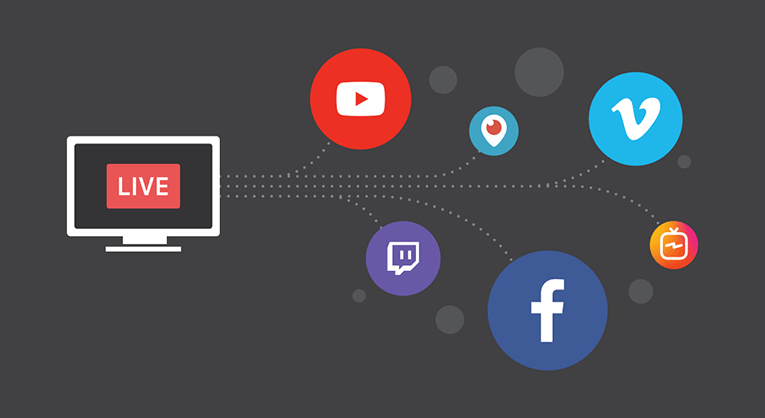 Multiplatform streaming. Why and How
Deciding on which live streaming platform to stay on is tricky. Which one is better? Which is more useful to me – YouTube, Facebook Live, or maybe Periscope in general? Or maybe you don't have to choose if there is such a solution as multi-platform broadcasting?
What it is
In short, multi-platform (aka multithreaded, aka multi-streaming) broadcasting means simultaneously broadcasting the same live video to multiple platforms. For example, Epiphan broadcasts its weekly Live @ Epiphan broadcasts via YouTube, Facebook, and sometimes also Twitch – these are multi-platform broadcasts.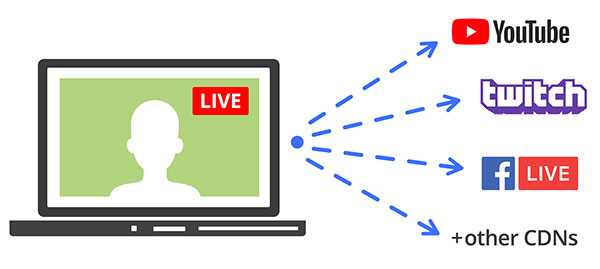 Benefits of multi-streaming
The most obvious benefit of streaming to multiple destinations at once is, of course, the ability to reach a much wider audience, but there are others that are less obvious. But let's start with the main thing:
We increase our availability
Open yourself up to a new audience
The more channels you are on, the more people see you. In addition to this, being multi-platform greatly improves your chances of getting new viewers. Think of the YouTube videos they offer, or Facebook prioritizing live video content. This is great for both independent content creators and companies whose goals always include building brand awareness and driving traffic to their business.
Take advantage of each platform
Each social platform helps you connect with different people and specific demographic groups. For example, YouTube is a global video platform and is great for broadcasting to the widest possible audience. Facebook Live is a social networking platform designed to quickly share and distribute information (in our case, live broadcasts) and is great for communicating with local communities. Periscope is good for reaching younger audiences, while Vimeo gives you better control over who can access your live stream, and Twitch is geared primarily towards gamers.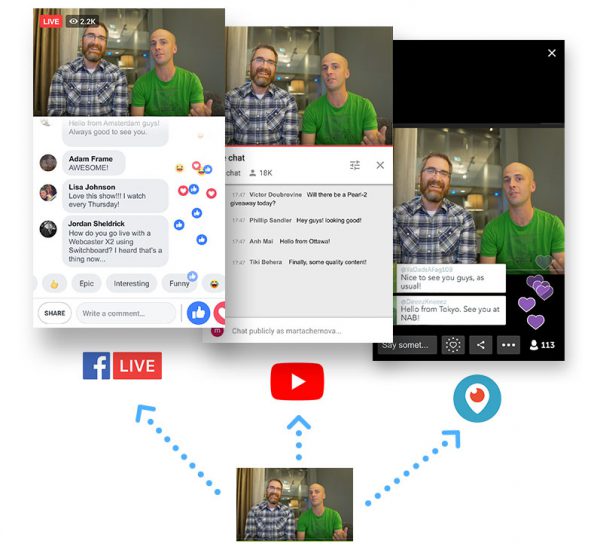 Get to know your audience better
Multiplatform streaming will also be a great way to gather statistics about who your audience is and where they are most active.
Don't expect the audience to come to you – go to them yourself
Often a lot of effort is spent trying to attract viewers to the specific platform that you use for your broadcasts. In the case of multi-streaming, they don't need to switch from Facebook to YouTube or Twitch to watch your live video. You just bring it to the "native" and familiar environment for each specific user.
Automatic recording on multiple platforms at once
On all available platforms, live broadcasts are usually recorded and sent to media libraries, where you can watch them at any time. Therefore, if you were broadcasting on one platform, then in order to make the recordings of these broadcasts available on others, you will have to manually upload them there. In the case of a multi-platform broadcast, it will be automatically recorded at all these sites.
How it works
Streaming software such as SplitCam lets you stream video feeds to multiple recipients simultaneously. And it even has all the recommended encoding settings for different video formats in real time as presets.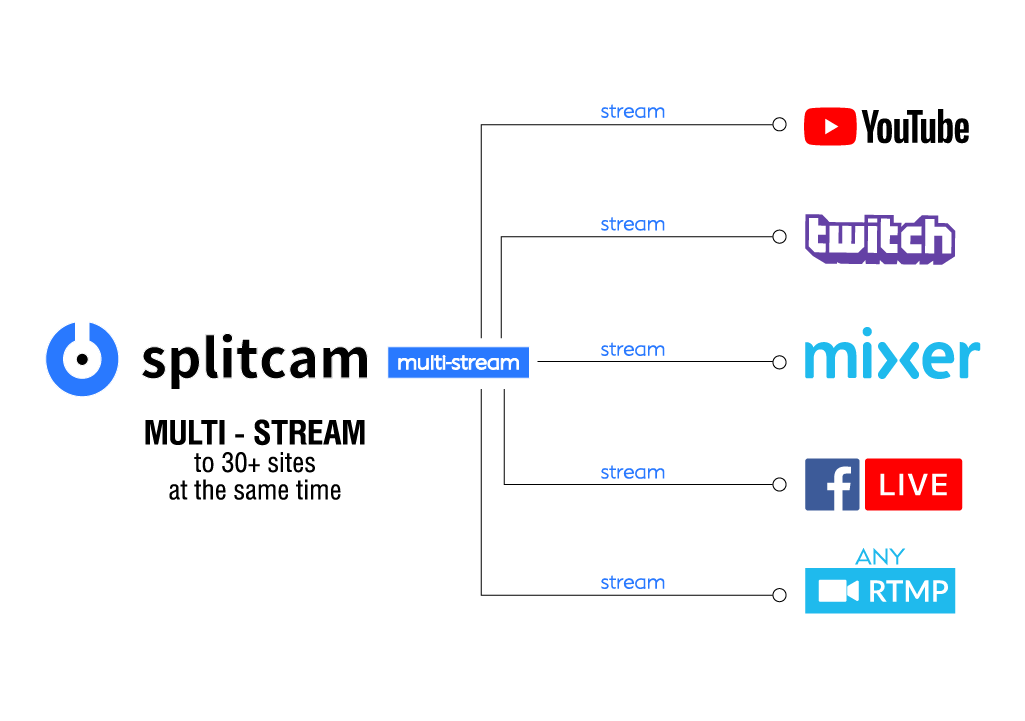 The benefits of multi-platform for live streaming are pretty obvious: the more platforms you reach at the same time, the more people will see and interact with your content, and the more loyal viewers you'll get. It doesn't matter which method you choose – software, hardware or cloud – given how easy it is now to set up multistream, creators of live content should at least try it.