SplitCam – New features of your webcam
Many people remember times when a video phone was some kind of fantastic device from the future. However at nowadays you can make video calls from your computer anytime you want. For this you need only a webcam and internet connection. Almost all modern laptops have integrated webcam so laptop owners need only internet for video chatting. Dozens of present at the moment IM clients (Skype, Windows Live Messenger, Yahoo Messenger, AIM, ICQ, etc.) allow video calls. Users of such software number increases every day. So webcam video call is usual thing in modern life and you can surprise nobody with this. But… let's try to do this. For this let's look at the software named SplitCam. This free program extends your webcam features and can raise your and your friends spirits.
The name of program consists of two words – Split and Camera. Why it's so? The answer is very simple. Initially the program was designed to solve a problem with exclusive using of webcam by applications in Windows operating system. If you are not aware of this problem try to connect your webcam to Skype and right after this connect the webcam to Windows Live Messenger. In this case you'll definitely receive "webcam is busy" error message (it's really so – Skype occupied webcam and WLM can't access it).
You may think that it's not a problem at all, that it's a very rare situation when you need to use webcam in several applications at the same mite. But just remember that there are few dozens of IM clients. What to do if one your friend uses Skype and other friend uses MSN? Moreover remember that many people like to stream their webcam video on sites like Justin.tv or ustream. In all these cases "webcam is busy" error appears. So the problem exists and SplitCam solves it.
However now SplitCam can much more that just cam splitting. Today it's a powerful webcam tool.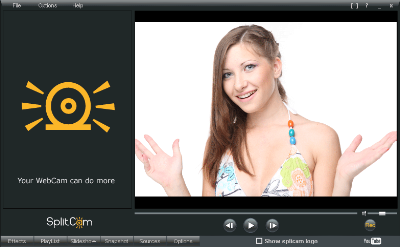 Webcam and more
Usually during video call people use webcams. It's obvious, usual thing but it's very… very… boring. With SplitCam you can leave stereotypes and have unusual, bright and full of emotions video calls. For example you can change your video stream source to video file. It can be anything you want – animated cartoon, video from YouTube, home video… In using of this your imagination is the only limitation. You can send video file instead of webcam for education (give a lecture), make video answering machine like in usual phone, imitate 24/7 online activity on some video site… Moreover you can play like webcam not only one file, but even make a playlist.
And it's only one of SplitCam video source features. You can set your desktop as a video source. During video chat all your friends will see your desktop. It worth to say that desktop video source in SplitCam works in three modes: full desktop, zoomed area where mouse cursor is and selected rectangle of the desktop. With the desktop feature of SplitCam you can help your friends in a few moments showing what to do in real time and commenting your actions with voice.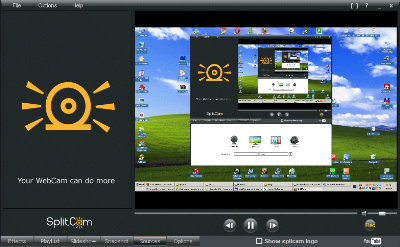 Effects? Effects… Effects!
The most interesting and impressive feature of SplitCam is effects. It's an excellent way to make your video chat cool and unusual. You can apply effects regardless of what video source is selected. You can apply several effects at the same time and make amazing effects combinations.
All the effects are divided into groups. Let's look at each effects group and find out what we can with SplitCam effects.
The first group is Filters. With these effects you can change the whole video. One filter makes video black-and-white, other – negative, next – gradient…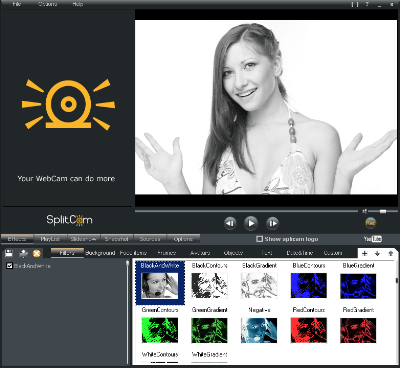 Second group is Background. Here you can pretend to be in some exotic place – in jungle, on tropical beach, on apex of a mountain… Few interesting backgrounds are already in the program. Additionally you can use as background any picture. Backgrounds implementation in SplitCam is interesting enough. The thing is the task of separating a user from it's real background is almost unsolvable. Professional photographer and video operators use for this special contrasting one-color background that can easily be separated after making of photo or video. Obviously that it's hard to make such background at home. However SplitCam developers found the way of this situation. Before using Background effect user need to go out from the picture and make a snapshot of the real background without the user on it. After this background from the effect appears and user can come back to his or her place.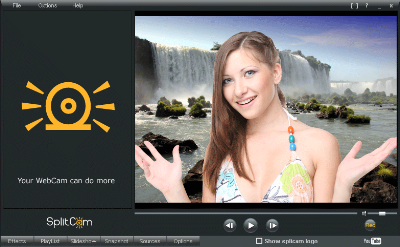 Next effects group is Face Item with such sub items as Masks, Eyes, Noses and others. Here you can put on your face fake glasses, ears, moustaches, noses, masks, hats, etc. And it will be non-static image! Face items are moving with head moves. It looks very funny and amusing.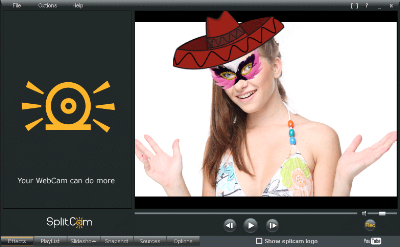 Next effects group is Frames. With frames effects you can apply some frame to your webcam video. Few frames are already included into SplitCam and you can make own frames. Frame effects are a way to show emotions and a spirit during video chatting. For example for Christmas greetings you can apply a frame with Christmas tree branches, for romantic talk on St. Valentine's Day – frame with a hart shape…
Avatars effects group is similar to Frame effects but instead of frames here you can find whole personages with holes for head or eyes. It's something like old photo tricks when you can place your head in a picture hole and become a cowboy or a president. Of course you can add your custom avatars to SplitCam.
Next effects group is Objects. It's large enough group. Here you can add static or dynamic image over your webcam video. In SplitCam already present different countries flags and holidays objects, but you can use any image you want. It's very useful that all objects can be moved and resized by mouse in SplitCam video window.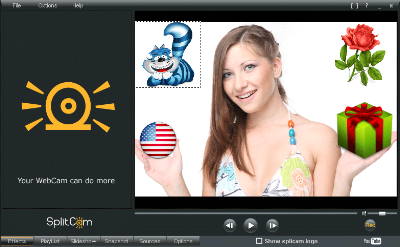 Next effect is text over video. There are few things that it worth to say about this effect. First thing is that the text can be multiline. Second – text font, size and background are changeable. Third – text can be vertically or horizontally scrolled. Similar to text effect is Date&Time. For it you can set different Date&Time, font, color and size.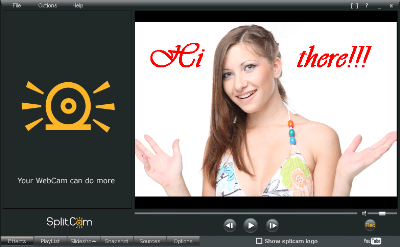 So as you can see SplitCam effects set is impressive. Initially SplitCam contains not many effects however you can create them yourself. It's very simple – select needed image and add it to SplitCam in a few clicks. All SplitCam effects are stored in files. After effects creation you can share effects files with your friends or upload to internet.
Additional features
In addition to features described above SplitCam offers several little but useful ones.
Lets start with Zoom feature. Almost all webcam standard features sets are not contain Zoom. However sometimes it's necessary to Zoom In some part of webcam video and come back to normal size after this. With SplitCam you can do this in a moment. Few mouse wheel moves or keyboard + or – keys pressings and it's done.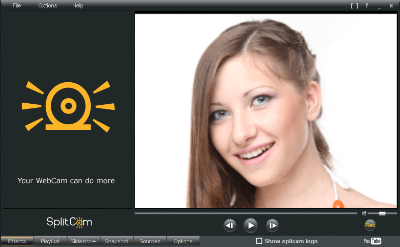 Other SplitCam feature is video record. Of course SplitCam is not professional video recording software but in some cases simple video record with SplitCam is much better and faster solution. To start record – click Rec button, to stop record – click it again. Then enter file name and that's all. If you need you can make pauses in video recording by clicking pause near Rec button.
Next SplitCam feature is uploading video files to YouTube. Of course you can do this on YouTube site but you may like to upload your files to YouTube directly from SplitCam window. For this you just need set parameters for access to YouTube (login, pass…), select file, input file name, keywords and click upload button. The process is maximally simplified.
And finally last little SplitCam feature is Snapshot manager. With it you can do snapshots from your video manually or automatically with time interval. After this you can save made snapshots to your computer.

Summary
Today we made detailed review of SplitCam software. We found out that SplitCam really extends standard webcam features. The program solves not only technical problems with simultaneous access to webcam for several applications but makes video chatting more interesting and full of emotions. SplitCam is universal solution for making non-standard things with your webcam.
SplitCam is totally free program and everyone can use it. However SplitCam developers are always glad to receive donations from the program users.
And finally indeed with SplitCam your webcam can do more!